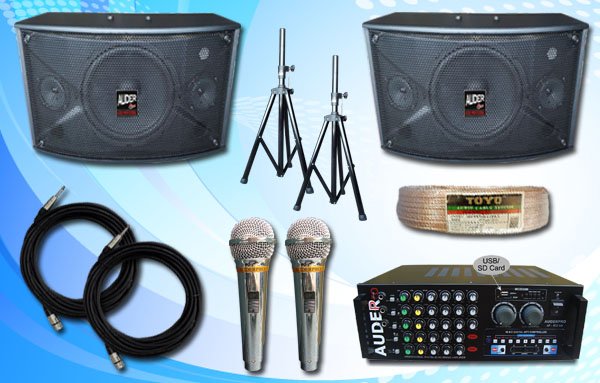 PAKET SOUND SYSTEM MEETING KECIL 5 AUDERPRO
Harga Belum Termasuk PPN & Ongkos Kirim Luar Kota.
PAKET SOUND SYSTEM MEETING KECIL 5 , TERDIRI DARI:
1 Unit Mixer Amplifier "AUDERPRO" AP-803AM (USB)
2 Unit Speaker Pasif "AUDERPRO" AP-10K, 10 Inch
2 Unit Mic Kabel "AUDERPRO" AP-914
1 Set Stand Speaker "SIGMA" SPS-502/Bracket Gantung (Pilih)
1 Roll Kabel Speaker "TOYO" 2 x 80 (Panjang 35 Meter)
2 Unit Kabel Mic "GANARE" (Panjang 10 Meter)
MIXER AMPLIFIER KARAOKE AUDERPRO AP-803AM
Mixer amplifier Auderpro ini dirancang untuk multi fungsi dan sangat mudah penggunaannya. Dalam unit sudah dilengkapi perangkat utama media pemutar USB/SD Card, Echo/Effek (Repeat dan Delay), dengan kekuatan keluar suara yang bertenaga besar. Mixer amplifier ini bisa dipakai untuk ruang karaoke, ruang rapat/meeting, seminar, training, ruang multimedia, senam, upacara, tempat ibadah, orasi, kampanye, pilkada, dan kegiatan kantor lainnya.
Mixer amplifier ini juga dapat dipasangkan ke berbagai jenis ukuran speaker pasif: 15 inch, 12 inch, 10 inch dan 8 Inch.
Spesifikasi:
Audio Output : 200 Watt + 200 Watt (200 Watt x 2)
3 microphones can be used simultaneously.
Terdiri 3 input Microphones bagian depan dan 2 input musik dan dapat difungsikan secara bergantian untuk input A (Usb/SD Card) dan input B (Musik External).
Easy to sing high perfomance digital echo
A + 4 – position key controller that can vary up to 2.5 pitch (chromatic intervals) is incorporated
Remote Controller (Control of MASTER VOL and selector MUSIC INPUT A or B and KEY CONTROLLER)
Dilengkapi remote control media pemutar USB/SD Card
Mic Input Sensitivity : > 10mV
External Devices Sensitivity : > 200mV
Signal/Noise Ratio (with IHF A Filter) : > 74dB
T.H.D. (1kHz, AUX 150mV INPUT) : 0.1%
Frequency Band : 25Hz – 25kHz
Mic Tone Adjustment :
….. LO : 80Hz + 16dB
….. MID : 3.5kHz + 10dB
….. HI : 12Hz + 16dB
ECHO Tone Adjusment :
….. LO : 70Hz + 16dB
….. HI : 12Hz + 16dB
Power source : AC 220V/50Hz
Electric Consumption : 450 Watt
Dimension (mm) : 430 (W) x 370 (D) x 170 (H)
SPEAKER PASIF AUDERPRO AP-10K, 10 Inch
Speaker pasif AP-10K ini memiliki performa yang baik dan menghasilkan yang suara yang jernih. Speaker AP-10K ini terbuat dari komponen-komponen pilihan yang berkualitas tinggi dan dengan sentuhan-sentuhan para professional yang berpengalaman sehingga menghasilkan produk ini. Sehingga kita semua sebagai pengnikmat audio bisa merasakan hasil suara yang bagus ini.
Fitur :
Daya masuk suara / input maksimum 550 watt dan daya masuk suara / input normal 250 watt. Speaker pasif AP-10K ini dilengkapi dengan 2 unit tweter pada bagian kiri dan kanan speaker. Speaker pasif ini didesain kalau instalasi pakai braket gantung atau pakai stand tripot adalah pada posisi horizontal
Aplikasi :
Speaker pasif ini bisa diaplikasikan sebagai penguatan suara untuk pidato, rapat, seminar, karaoke, training, orasi, kampanye, promosi, pameran, pemutaran musik dalam acara hiburan dan kegiatan lainnya.Speaker pasif ini bisa juga dipakai ditempat-tempat seperti: Pengajaran/sekolah, kantor, ruang conference, Gereja, Masjid, ruang kuliah, lelang, acara promosi, indoor dan outdoor, dll…..
MODEL : AP-10K
Frekuensi Respon +/-3dB : 37Hz – 20kHz
Sensitivitas 1 W @ 1 M : 99dB
SPL Maksimum : 130 dB
Sistem Impedansi : 8 Ohm
Daya Masuk Suara Maksimum : 550 Watt
Daya Masuk Suara Normal : 250 Watt
Rentang Frekuensi : (-10 dB) 39Hz – 20kHz
Sistem Tipe Speaker : 10 Inch, 3 – Way
Bahan Finish : Plywood Hitam
Lubang Stand Bawah : "Tidak Ada"
Lubang Stand Atas : "Tidak Ada"
Lubang Baut Gantung : "Ada"
Konektor Saluran Masuk / Input : Standar
Berat Bersih (KG) : 12 Kg/Unit
Berat Kotor (KG) : 13 Kg/Unit
Dimensi :
Tinggi : 295 MM
Lebar : 510 MM
Kedalaman / Kebelakang : 285 MM
PROFESSIONAL MICROPHONE AUDERPRO AP-914
Main Features:
– The magnet is made from neodyminum so that high level and high quality sound is
produced.
– This unit employed a double dome diaghragm is in order to achieve a well balanced sound quality from the lower range to upper range.
– A liht duty CCAW (aluminum wire) is employed in the voice coil in order to arhieve a crystal clear sound quality.
– A reliable canon brand connector is employed.
Specifications:
Tipe : Dinamic microphone
Direktivity : Uni-directional
Impendance : 600 ohm + 30% (at 1 KHz)
Frequency response : 50 Hz to 16 KHz
Sensitivity : – 52dB + 3 dB (at 1 KHz)
Switch ON/OFF : Big
Color : Chrome Silver
Weight : 310 Gram
Dimensions:
Long : 200 MM
Top Diameter : 50 MM
Bottom Diameter : 22 MM
Distance between the microphone and mouth : 5 to 10 CM
Operating Insteuctions:
1. Insert the microphone plug into the microphone terminal.
2. Flip the microphone switch to the "ON" position, and adjust the volume with the volume control knob on the amplifier. When handing the microphone to somebody else or when finished using it, flip the microphone switch to the "OFF" position.
3. The in reason distance between the microphone and mouth is from 5 to 10 centimeters. If the microphone is too close to the mouth, the sound may be unclear with too-much enhanced bass (proximity effect) or may be uncomfortable to ears with pop noise generated when every time the singer breathes in and out.
STAND TRIPOT SPEAKER SIGMA SPS-502
Spesifikasi:
#Bahan terbuat dari besi yang kuat dengan ketebalan 3 mm diameter 3,5 cm
#Lempengan kedudukan speaker terbuat dari bahan fiber yang tebal dan kuat
#Ketiga alas kaki dilengkapi dengan bahan karet anti slip
#Pin Pengunci pengaturan tinggi rendahnya speaker dengan besi crome dan dilengkapapi rantai pengaman anti lepas.
#Pengunci buka tutup menggunakan baut dengan kepala pegangan yang besar
#Sanggup menahan berat maximum aman pemakaian. : 50 Kg
#Mempunyai 5 lubang step pengaturan ketinggian sesuai keinginan
#Ketinggian Minimum 110 CM
#Ketinggian Maksimum 185 CM
#Dimensi Unit : P X L X T = 14 CM X 14 CM X 103 CM
#Dimensi Dus : P X L X T = 15 CM X 15 CM X 105 CM
#Dimanfaatkan untuk ukuran speaker 8 – 15 inch.
KABEL SPEAKER TOYO PROFESSIONAL 2 x 80
Audio Cable System
Toyo Professional Speaker Cable
Ultra Hi – Purity
Copper opec perfect link for audio By Standard
Size : 2 x 80 Bunching Wires
Tinned/Bare Copper
Low Noise and High Output
Panjang 35 Meter
Microphone Cable GANARE L-2T2S
Our standard diameter 2-conductor microphone cable for general purpose audio applications. The high density braided copper shield and two inner conductors (composed of 60 thin strands of copper wire), allow for maximum flexibility and reduced handling noise. A special compound PVC outer jacket resists cracking and tears even in sub-zero environments.
Applications :
Microphones, Speaker Active, Portable Applications, Audio Patch Cords, PA Systems
Features :
Braided Copper Shield, Flexible in Extreme Cold Weather, Reduced Handling Noise, Rejects EMI and RFI
SPECIFICATIONS
Long : 10 Metres
Cond-AWG (Qty./mil) : AC – #23 (60/3.15) 465
*Dielectric Strength = 500V AC/1min. Insulation Resistance/3Mft = &gt1000M ohm.
**Effective AWG of combined twin conductors.
ELECTRICAL PERFORMANCE
Model Cond. D.C.R. ohm/1000ft (ohm/100m) :
less than 19.8 (less than6.5)
Shield D.C.R. ohm/1000ft (ohm/100m) Nom :
less than 9.4 (less than 3.1)
Group Delay Time nS/ft (nS/m) :
1.83 (6.00)
COLORS AVAILABLE
Black