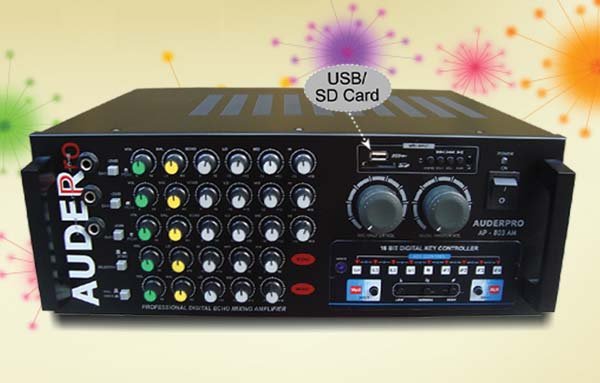 MIXER AMPLIFIER KARAOKE AUDERPRO AP-803AM
Mixer amplifier Auderpro ini dirancang untuk multi fungsi dan sangat mudah penggunaannya. Dalam unit sudah dilengkapi perangkat utama media pemutar USB/SD Card, Echo/Effek (Repeat dan Delay), dengan kekuatan keluar suara yang bertenaga besar. Mixer amplifier ini bisa dipakai untuk ruang karaoke, ruang rapat/meeting, seminar, training, ruang multimedia, senam, upacara, tempat ibadah, orasi, kampanye, pilkada, dan kegiatan kantor lainnya.
Mixer amplifier ini juga dapat dipasangkan ke berbagai jenis ukuran speaker pasif: 15 inch, 12 inch, 10 inch dan 8 Inch.
Spesifikasi:
Audio Output : 200 Watt + 200 Watt (200 Watt x 2)
3 microphones can be used simultaneously.
Terdiri 3 input Microphones bagian depan dan 2 input musik dan dapat difungsikan secara bergantian untuk input A (Usb/SD Card) dan input B (Musik External).
Easy to sing high perfomance digital echo
A + 4 – position key controller that can vary up to 2.5 pitch (chromatic intervals) is incorporated
Remote Controller (Control of MASTER VOL and selector MUSIC INPUT A or B and KEY CONTROLLER)
Dilengkapi remote control media pemutar USB/SD Card
Mic Input Sensitivity : > 10mV
External Devices Sensitivity : > 200mV
Signal/Noise Ratio (with IHF A Filter) : > 74dB
T.H.D. (1kHz, AUX 150mV INPUT) : 0.1%
Frequency Band : 25Hz – 25kHz
Mic Tone Adjustment :
….. LO : 80Hz + 16dB
….. MID : 3.5kHz + 10dB
….. HI : 12Hz + 16dB
ECHO Tone Adjusment :
….. LO : 70Hz + 16dB
….. HI : 12Hz + 16dB
Power source : AC 220V/50Hz
Electric Consumption : 450 Watt
Dimension (mm) : 430 (W) x 370 (D) x 170 (H)
*HARGA BELUM TERMASUK PPN & ONGKOS KIRIM LUAR KOTA !!!