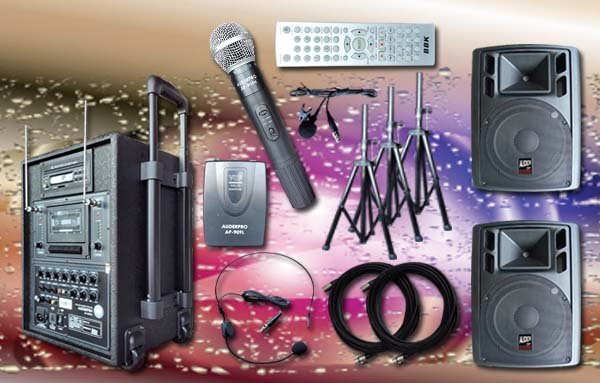 E3. PORTABLE AMPLIFIER SPEAKER WIRELESS AUDERPRO AP-909PA + 2 SPEAKER AKTIF AP-112A
HARGA BELUM TERMASUK PPN & ONGKOS KIRIM LUAR KOTA !!!
E3. PORTABLE WIRELESS AUDERPRO AP-909PA + 2 SPEAKER AKTIF AUDERPRO AP-112A, TERDIRI DARI:
1 Unit Portable Wireless "AUDERPRO" AP-909PA Usb + DVD
Paket Mic Wireless (1 Genggam + 1 Jepit/Headset)
2 Unit Speaker Aktif "AUDERPRO" AP-112A, 12 Inch
3 Unit Stand Tripot Speaker "SIGMA" SPS-502
2 Unit Kabel Koneksi Speaker "GANARE" (Panjang 15 Meter)
PORTABLE WIRELESS AUDERPRO AP-909PA (DVD + USB)
Satu perangkat audio visual komplet (all in One) sebagai alat bantu presentasi dan perekam audio. Jangkauan microphone sangat jauh (55 Meter), jelas dan jernih suaranya. Memudahkan aktivitas karena dilengkapi remote control. Gampang dibawa karena dilengkapi trolley dan roda. Dilengkapi rechargeable batterie untuk
pemakaian s/d 6 jam non stop (Tanpa menyalakan DVD).
Features
All-in-One Portable Wireless System !
Now with Extra Features : USB Slot for Music Playing & VHF Wireless Microphone System …
• USB Slot for connecting iPod, MP3 Player, Flash Disk • VHF Wireless Microphone System
• Full Featured DVD Player • Video Output • Cassette Deck / Tape Player + Recorder
• Echo, Delay, Bass, Treble and Volume Controls •
• Dynamic Wireless Mic ( Handheld Wireless, Clip-on Wireless, HeadSet Wireless )
• Operation Range : 55 metres in open area • Unit Powered by Internal Rechargeable Battery Pack
• Audio Input : 2-Mic 1/4″ and 1 Stereo RCA Aux Line Input• 1/4″ Line Out • External Speaker Output
• LED Indicators : Battery Charge, Low Battery, Power • 1 x 8-inch Woofers and 2.5-inch Compression Tweeter
• 75W-RMS • Unit Back-up Battery Life : Approx. 6-hours
• Mic Battery Life : Approx. 4-hours • Ported Enclosure for Increased Bass Response
• Telescoping Handle and Caster Wheels • Operating Frequency : VHF 225-285 MHz
• Voltage : 220V 50/60Hz , Voltage Switchable
Specifications
• Frequency Range : VHF 225 – 285 MHz
• Frequency Stability : ±0.005% quartz oscillation controlled, with temperature stabilizer
• Modulation (Max) : ±20KHz
• Frequency Response : 50Hz ~ 18KHz ±3dB
• Hum & Noise : 100dB±3dB (RF=1mV)
• Dynamic Range : min 100dB
• Distorsion : Less than 0.5% (at 5W)
• Built-in Rechargeable Battery : ( 12V, 5Amp )
Weight : 19 Kgs
Dimension: HxWxD: 45 x 34 x 33 cm
Specifications Wireless Receiver:
• Quartz Controlled Fixed Frequency Receiving Mode
• Sensitivity: 10dB/uV/(S/N 60dB)
• Image and Spurious Rejection: Min 80dB
• Output: unbalanced 250mV 600Ω
• Receiver System: Dual Channels
• Input Signal: Wired, Wireless MIC, Audio-in
• Output Signal: Recording signal, Line-out
• Power output: 75W(Max)
• Power Source: AC 220V or DC 12V
• Current Consumption: max 4A
Specifications Wireless Microphone:
• Antenna: Built-in with noise terminator circuit (Handheld Microphone)
Antenna (Body-pack Transmitter)
• Battery: DC9V
• Current Consumption: 20mA
• Power Output: 20mW
• Spurious Emission: 45dB min
SPEAKER AKTIF PROFESSIONAL AUDERPRO AP-112A, 12 INCH
Performa akustik AP-112A yang dahsyat dan memukau dalam semua event musik. professional speaker aktif ini dirancang dengan bentuk yang ramping, bobot yang ringan, pegangan yang kuat serta memudahkan para penggunaannya dalam hal mobilitas dari satu tempat ke tempat lain. Untuk memudahkan dalam pemasangan bagian atas dilengkapin dengan lubang untuk pasang baut gantungan dan pada bagian bawah dilengkapi dengan lubang untuk pasang stand tripot. Pada saat diletakkan dilantai sebagai monitor bisa diatur pada posisi 45°
Fitur :
Daya keluar suara maksimum 600 watt dan daya keluar suara normal 300 watt serta memiliki RMS daya keluar suara murni 150 watt. Dalam speaker aktif AP-112A sudah memiliki line input dan line output serta juga memiliki microphone input yang langsung bisa dihubungkan dengan mikrofon. Pada masing-masing line tersebut punya tombol pengatur level volume tersendiri juga. Untuk menyempurnakan pengaturan suara pada speaker ini juga dilengkapi dengan equaliser pengatur suara rendah dan suara tinggi.
Aplikasi :
Speaker aktif ini bisa diaplikasikan sebagai penguatan suara untuk pidato, rapat, seminar, karaoke, training, orasi, kampanye, promosi, pameran, pemutaran musik dalam acara hiburan, monitor band dan kegiatan lainnya.Speaker aktif ini bisa juga dipakai ditempat-tempat seperti: Pengajaran/sekolah, kantor, ruang conference, Gereja, Masjid, ruang kuliah, lelang, acara promosi, indoor dan outdoor, dll…..
MODEL : AP-112A
Frekuensi Respon +/-3dB 40Hz – 18kHz
Sensitivitas 1 W @ 1 M : 98dB
SPL Maksimum : 130 dB
Sistem Impedansi : 8 Ohm
Daya Keluar Suara Maksimum : 600 Watt
Daya Keluar Suara Normal : 300 Watt
Daya RMS : 150 Watt
Rentang Frekuensi : (-10 dB) 42Hz – 20kHz
Sistem Tipe Speaker : 12 Inch, 2 – Way
Bahan Finish : Fiber Hitam
Lubang Stand Bawah : "Ada"
Lubang Stand Atas : "Tidak Ada"
Lubang Baut Gantung : "Ada"
Konektor Saluran Masuk / Line Input : XLR Jack
Konektor Input Microphone : XLR & 1 1/4″ Jack
Konektor Saluran Keluar / Line Output : XLR Jack
Berat Bersih (KG) : 20 Kg/Unit
Berat Kotor (KG) : 22 Kg/Unit
Dimensi :
Tinggi : 600 MM
Lebar : 430 MM
Kedalaman / Kebelakang : 330 MM
Daya : Tegangan 220~240V, 50 / 60Hz
Indikator Posisi Nyala : Lampu Led
STAND TRIPOT SPEAKER SIGMA SPS-502
Spesifikasi:
#Bahan terbuat dari besi yang kuat dengan ketebalan 3 mm diameter 3,5 cm
#Lempengan kedudukan speaker terbuat dari bahan fiber yang tebal dan kuat
#Ketiga alas kaki dilengkapi dengan bahan karet anti slip
#Pin Pengunci pengaturan tinggi rendahnya speaker dengan besi crome dan dilengkapapi rantai pengaman anti lepas.
#Pengunci buka tutup menggunakan baut dengan kepala pegangan yang besar
#Sanggup menahan berat maximum aman pemakaian. : 50 Kg
#Mempunyai 5 lubang step pengaturan ketinggian sesuai keinginan
#Ketinggian Minimum 110 CM
#Ketinggian Maksimum 185 CM
#Dimensi Unit : P X L X T = 14 CM X 14 CM X 103 CM
#Dimensi Dus : P X L X T = 15 CM X 15 CM X 105 CM
#Dimanfaatkan untuk ukuran speaker 8 – 15 inch.
Cable Speaker Aktif GANARE L-2T2S
Our standard diameter 2-conductor microphone cable for general purpose audio applications. The high density braided copper shield and two inner conductors (composed of 60 thin strands of copper wire), allow for maximum flexibility and reduced handling noise. A special compound PVC outer jacket resists cracking and tears even in sub-zero environments.
Applications :
Microphones, Speaker Active, Portable Applications, Audio Patch Cords, PA Systems
Features :
Braided Copper Shield, Flexible in Extreme Cold Weather, Reduced Handling Noise, Rejects EMI and RFI
SPECIFICATIONS
Long : 15 Metres
Cond-AWG (Qty./mil) : AC – #23 (60/3.15) 465
*Dielectric Strength = 500V AC/1min. Insulation Resistance/3Mft = &gt1000M ohm.
**Effective AWG of combined twin conductors.
ELECTRICAL PERFORMANCE
Model Cond. D.C.R. ohm/1000ft (ohm/100m) :
less than 19.8 (less than6.5)
Shield D.C.R. ohm/1000ft (ohm/100m) Nom :
less than 9.4 (less than 3.1)
Group Delay Time nS/ft (nS/m) :
1.83 (6.00)
COLORS AVAILABLE
Black
Fungsi: Untuk Orasi, Meeting/Rapat, Ibadah, Sekolahan, Kantor Negeri & Swasta,
Seminar, Kegiatan Promosi, Acara keluarga, Pilkada, Pemilu Dll.