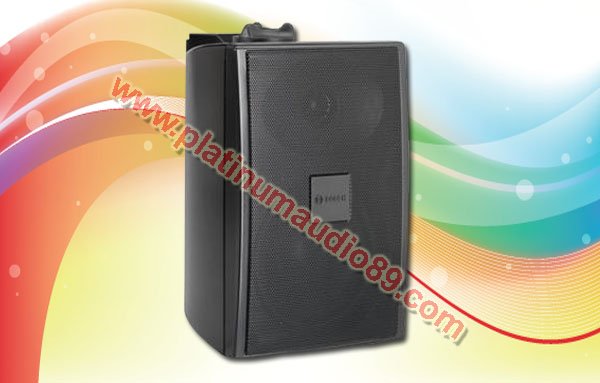 BOSCH LB2‑UC30-D Premium Sound Cabinet
Loudspeaker Range
> High-fidelity music and speech reproduction
> Selectable 8 ohm, 70 V and 100 V inputs
> Compact yet robust ABS enclosure
> Supplied with adjustable mounting bracket
> Complies with international installation and safety regulations
The LB2‑UC30-D Premium‑sound cabinet loudspeakers are intended for clear reproduction of speech, foreground and background music to be used in general indoor and outdoor applications. The Premium‑sound cabinet loudspeaker range consists of a 30 W model, available in a light or dark
color. The loudspeakers have selectable 8 ohm, 70 V and 100 V inputs. Typical applications are: theme bars, music restaurants, theme parks, retail outlets, audio visual, boardrooms and offices, exhibition areas, showrooms, fitness centre's and presentation environments.
Certifications and approvals
All Bosch loudspeakers are designed to withstand operating at their rated power for 100 hours in accordance with IEC 268‑5 Power Handling Capacity (PHC) standards. Bosch has also developed the Simulated Acoustical Feedback Exposure (SAFE) test to demonstrate that the speakers can withstand two times their rated power for short durations. This ensures extra reliability under extreme conditions, leading to greater customer satisfaction, longer operating life, and much less chance of failure or performance deterioration.
Installation/configuration notes
The cabinets include a built‑in transformer that offers a selection of nominal full power, half power, quarter power or eight power radiation (i.e. in 3 dB steps) for 70 V, 100 V or 8 Ohm bypass.
Selection is done by a convenient switch on the rear enclosure.
A two meter long twin‑core loudspeaker cable (in matching color with the cabinet) is connected to the loudspeaker. The core ends are stripped ready for use. The cabinets can be mounted horizontally to allow the-loudspeaker to be directed up or down, or vertically to allow left and right rotation by means of a steel U-shaped wall bracket (standard supplied).
Technical specifications:
Electrical*
Description Premium‑sound Cabinet Loudspeaker
Maximum power 45 W
Rated power (PHC) 30 W
Power tapping 30 / 15 / 7.5 / 3.75 W
Sound pressure level at rated power / 1 W (1 kHz, 1 m) 105/90 dB (SPL)
Effective frequency range (-10 dB) 100 Hz to 18.5 kHz
Opening angle at 1 kHz / 4 kHz (-6 dB) 160° / 81° (hor.), 150° / 90° (ver.)
Rated input voltage 15.5/70/100 V
Rated impedance 8 / 163 / 333 ohm
Transducers 127 mm (5") woofer, 13 mm (0.51 ") dome tweeter
Connection 2 m (78.8 in.) two‑wire cable
* Technical performance data acc. to IEC 60268‑5
Mechanical
Dimensions (H x W x D) 250 x 160 x 140 mm (9.84 x 6.30 x 5.51 in)
Weight Approx. 2.4 kg (5.29 lb)
Color Charcoal
Environmental
Operating temperature -25 ºC to +55 ºC (-13 ºF to +131 ºF)
Storage temperature -40 ºC to +70 ºC (-40 ºF to +158 ºF)
Relative humidity <95%