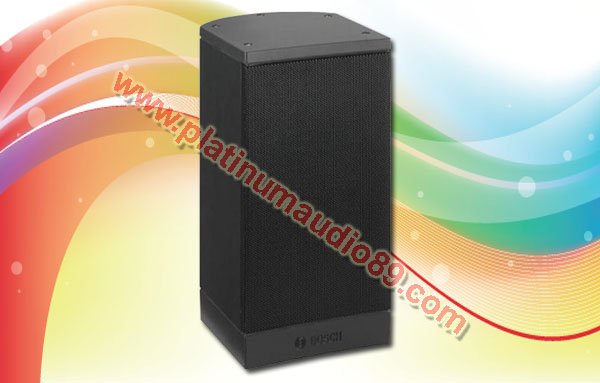 Bosch LB1‑UM50E Premium‑sound Cabinet Loudspeaker 50 W
The Premium‐sound range of cabinets is intended for clear reproduction of speech, foreground and background music to be used in general indoor and outdoor applications. The range comprises two models, offering a choice of 20 W or 50 W power handling capacity. The enclosures are made from aluminum with ABS top and bottom covers and are available in charcoal (D) and white (L).
Typical applications for these products are: theme bars, music restaurants, theme parks, retail outlets, audio visual, boardrooms and offices, exhibition areas and presentation environments, fitness centre.
Its excellent sound reproduction capability is attributed the superb to the use of high‐quality driver components and crossover network design.
A self‐restoring passive element protects the high frequency driver against incidental overload.
The cabinets can be used as VA (Voice‐Alarm) and are compliant with BS 5839‐8 and EN 60849 standards.
A three‐way ceramic terminal block with screw connections suitable for loop-through wiring is located in the compartment in the base of the unit.
An easy to install, sturdy wall mounting bracket is standard supplied. The same bracket can be used in combination with the universal floor stand LBC 1259/00 for temporary installations.
All models are supplied with a built‐in 70/100 V transformer with taps on the primary winding for full‐power, half‐power, quarter‐power and one‐eighth power radiation. These taps are connected to a rotary vari‐tap switch located in the compartment in the base of the enclosure, to allow simple output power setting. A low ohmic connection is also provided on the vari‐tap switch.
Voice alarm
Voice alarm loudspeakers are specifically designed for use in buildings, where the performance of Public Address systems is subject to official regulations. The LB1‐UMx0E‐x are designed for voice alarm systems, and are compliant with British Standard BS 5839‐8 and
EN 60849.
Protection
The loudspeakers have built‐in protection to ensure that in the event of a fire damage does not cause failure of the connected circuit. In this way, system integrity is maintained; ensuring loudspeakers in other areas can still be used to inform people of the situation.
Connections and safety
The loudspeakers have a ceramic terminal block, thermal fuse, and heat‐resistant, high‐temperature wiring. The cabinets have a provision for internally mounting the optional line/loudspeaker supervision board.
Technical specifications
Electrical*
Description : Premium‑sound Cabinet Loudspeaker
Maximum power : 75 W, Rated power (PHC) : 50 W
Power tapping : 50 / 25 / 12.5 / 6.2 / 5 W
Sound pressure level at rated power / 1 W (1 kHz, 1 m) : 108 dB / 91 dB (SPL)
Effective frequency range (-10 dB) : 90 Hz to 20 kHz
Opening angle at 1 kHz / 4 kHz (-6 dB) :
horizontal : 186° / 126°
vertical : 84° / 62°
Rated input voltage : 20 / 70 / 100 V, Rated impedance : 8 / 100 / 200 ohm, Connector : 3‑pole screw block
Mechanical
Dimensions (W x D) : 405x160x180mm (15.94×6.29×7.08in)
Loudspeaker diameter = Woofer : 134.5 mm (5 in), Dome tweeter : 25.4 mm (1 in)
Material = Cabinet : Aluminum, Front grille : Aluminum, Top and bottom : ABS
Color : White (RAL 9010) (L) or Charcoal (RAL 7021) (D)
Weight : 5.58 kg (12.30 lb)