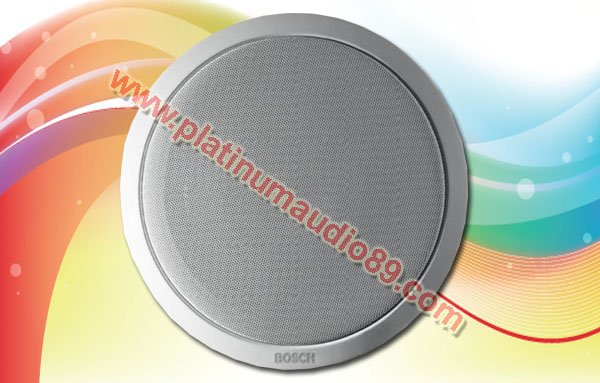 Bosch LBC 3099 – Metal grile ceiling speaker
• Excellent speech and music reproduction
• High sound pressure level
• Ideal for high-ceiling applications
• Flush mounted in ceilings
• Clamp mounting
• Simple power setting
• Unobtrusive white metal grille
• Ball-proof
• Complies with international installation and safety regulations.
The LBC 3099 is a flush-mounting ceiling loudspeaker for applications where extra power is required, such as rooms with high ceilings. It delivers a high sound pressure level and has a wide frequency range to ensure excellent speech intelligibility and good quality music reproduction. It is used in applications like shops, department stores, schools, offices,
sports halls, hotels and restaurants.
Functions :
The LBC 3099 has a single-piece, 24 W dual-cone loudspeaker. A 100 V matching transformer is mounted on the back of the frame. An attractive metal grille is integrated
with the front, and finished in a unobtrusive white color (RAL 9010).
Certifications and Approvals
All Bosch loudspeakers are designed to withstand operating at their rated power for 100 hours in accordance with IEC 268-5 Power Handling Capacity (PHC) standards. Bosch has also developed the Simulated Acoustical Feedback Exposure (SAFE) test to demonstrate that they can withstand two times their rated power for short durations. This ensures extra
reliability under extreme conditions, leading to higher customer satisfaction, longer operating life, and much less chance of failure or performance deterioration.
Technical Specifications Electrical
Type: Flush ceiling mount.
Max. power: 36 W. Rated power: 24 W
Sound pressure level at 24 w/1 w (at 1kHz, 1m): 106 dB/ 92 dB (SPL).
Effective frequency range (-10 dB): 60 Hz to 18 kHz.
Opening angle: 175° / 55° (at 1 kHz/4 kHz, -6 dB).
Rated voltage: 100 V. Rated impedance: 417. Speaker size: 8″
Magnet size: 10 oz. Ambient temperature range: -15° to +55°C.
Safety: acc. to EN 60065. Ball proof: acc to DIN 18032-3.
Connection: 2 pole push connector.
Dimensions (dia x max. depth): 265 x 89 mm.
Cut-out Dia.: 210 mm. Colour: White Weight: 1.8 kg
(Biasanya di pakai untuk ruang conference, hotel, restoran, cafe, supermarket, kantor dll)