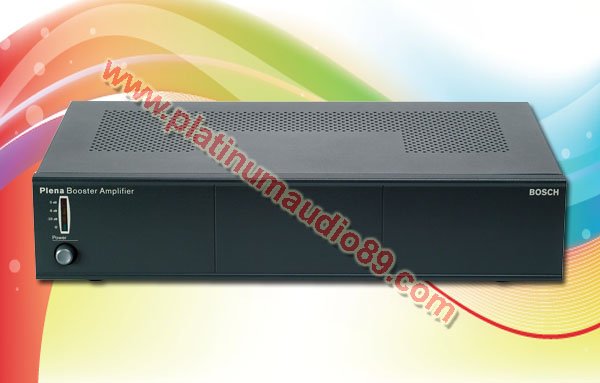 Bosch – LBB1930/20 – Plena Booster / Power Amplifier
The LBB 1930/20 is a compact yet powerful 120 Watt, power amplifier with 100 volt line constant voltage and 8 ohm low impedance outputs.
2U high 19" case for rack mounting or tabletop use.
LEDs on the front panel of the LBB1930/20 show the status of the amplifier: power, audio output level, and supervised functions. This high performance unit fulfills a wide range of public address requirements at a surprisingly low cost.
120 watts
Very high audio performance power amp
Can be used to boost Plena Voice alarm systems with system monitoring
XLR and jack input with XLR and Jack loop through outputs
100 volt line input. Ideal for remote location booster amps
100v, 70v and 8 ohm outputs
Dual inputs with priority switching
Temperature controlled forced front to back ventilation
AC and 24VDC operation
Mains, battery back-up and pilot tone supervision
LED VU Meter
TÜV certified according to IEC 60849
Mains power supply
Voltage: 230 VAC, ±10%, 50/60 Hz
Inrush current: 8 A
Max power consumption: 400 VA
Battery power supply
Voltage: 24 VDC, +20% / -10%
Current max: 6 A
Performance
Output power (rms/maximum): 120 / 180 W
Power reduction on backup power: -1 dB
Technical Specifications:
Mains power supply
Frequency response: 50 Hz to 20 kHz (+1 / -3 dB at -10 dB ref. rated output)
Distortion: <1% at rated output power, 1 kHz S/N (flat at max volume): >90 dB
Line inputs: 2 x
Connecto:r 3-pin XLR, balanced
Sensitivity: 1 V
Impedanc:e 20 kohm
CMRR:>25 dB (50 Hz to 20 kHz)
Gain: 40 dB
100 V input
Connector: Screw, unbalanced
Sensitivity: 100 V
Impedance: 330 kohm
Line loop-through output: 2 x
Connector: 3-pin XLR
Nominal level: 1 V
Impedance: Direct connection to line input
Loudspeaker outputs: 3 x
Connector: Screw, floating
Direct output: 100 V, 70 V, 8 ohm
Priority only (from input 1): 100 V or 70 V internally selectable
Music (non-priority) only: 100 V or 70 V internally selectable